Major Classes of Conventional Insecticides

There are more than 400 specific chemical compounds that are currently registered for use in the United States as insecticides.   They represent a wide range of chemical structures, toxicity, and physical properties.   Some are general purpose insecticides, while others have very specific and limited uses.   In addition, there are many other compounds that have been used in the past but are no longer available because of high toxicity, long persistence, or low reliability.   The following list, organized by chemical families, includes some of the more important insecticides — both past and present.
Inorganic Compounds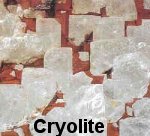 Arsenic and fluoride compounds were the mainstay of chemical pest control from the mid 1800's to the mid 1900's.   These materials [e.g., lead arsenate, arsenic trioxide, and copper acetoarsenate (Paris green)], are persistent in the environment and highly toxic to all forms of animal life.   Most inorganic compounds were phased out of use after World War II.   They were replaced by synthetic organic compounds that were more effective and less hazardous to humans and the environment.   Sodium fluoride (NaF) and cryolite (sodium fluoroaluminate, Na3AlF6) are stomach poisons that still have commercial applications.  Finely ground sulfur is also used as both a fungicide and a miticide.